The Complete Guide On How to Hire Residential Movers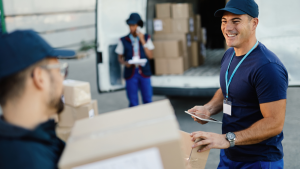 Moving, whether it's a short distance or a long-distance relocation, can be an enormous undertaking. Beyond just packing your belongings, it involves orchestrating a complex logistical operation, managing valuable possessions, and uprooting your entire life while maintaining your composure.
Fortunately, the right moving company can turn this overwhelming process into a seamless transition. But with numerous movers competing for your attention, how do you identify the ideal one?
A professional mover is a specialized service provider that assists individuals or families with the process of moving their belongings from one residence to another. These movers have the expertise, equipment, and manpower to efficiently and safely handle all aspects of a residential move.
What Are The Types Of Services Movers Provide?
Local Moving:
This service involves moving your belongings within a local area or a short distance, typically within the same city or town.
Long-Distance Moving:
Long-distance movers specialize in transporting your belongings over a significant distance, typically across different cities, states, or even countries.
Residential Moving:
Professional movers focus on helping individuals and families relocate their homes. They handle packing, loading, transportation, unloading, and sometimes unpacking of household items.
Commercial Moving:
Commercial movers specialize in relocating businesses, offices, or other commercial establishments. They are equipped to handle the unique challenges of moving large office furniture, equipment, and sensitive business documents.
Hauling Services:
The end of a full-service move can include not only unpacking but also hauling away all the boxes and wrappings from the move. This is useful because when you unpack on your own, the boxes can pile up quickly! So, professional movers will haul them away when they are finished unpacking so you can start your new life in your home with a clean slate.
What are the Benefits of Hiring Residential Movers?
Efficiency and Time-Saving:
professional movers have the expertise and experience to handle all aspects of your move efficiently. They can quickly and systematically pack, load, transport, unload, and unpack your belongings, saving you valuable time and effort. Their organized approach and efficient techniques ensure that the moving process is completed promptly.
Safety and Injury Prevention:
Moving heavy furniture and lifting bulky items can pose risks of personal injury if not done properly. Professional movers are well-versed in safety procedures and have the necessary equipment, such as dollies, ramps, and straps, to move items safely. Hiring them reduces the likelihood of accidents or injuries during the moving process.
Protection for Your Belongings:
They take precautions to protect your belongings during the move. They use high-quality packing materials, such as bubble wrap, packing paper, and moving blankets, to ensure that your items are shielded from scratches, dents, or other damage. Movers also have liability insurance coverage, which provides financial protection in case of accidental damage or loss.
Specialized Equipment:
professional movers have access to specialized moving equipment that simplifies the moving process. They have dollies, ramps, and hoisting straps to handle heavy or oversized items.
Customized Services:
Professional movers offer a range of services to meet your specific needs. Whether you require full-service packing and unpacking, furniture disassembly and reassembly, or storage solutions, movers can tailor their services to accommodate your requirements. You can choose the level of involvement you want, making the process more personalized and convenient.
Cost-Effectiveness:
While hiring professional movers involves a cost, it can be a cost-effective option considering the time, effort, and potential damage that could occur when moving by yourself. Movers provide efficiency, expertise, and protection for your belongings, which can save you money in the long run.
What Services Do Professional Movers Provide?
Packing and Unpacking:
Movers can handle the packing and unpacking of your belongings. They will bring the necessary packing materials, such as boxes, tape, bubble wrap, and packing paper, and ensure that your items are securely packed. At your new home, they can also assist in unpacking and arranging your belongings.
Loading and Unloading:
Movers are responsible for loading your packed items onto the moving truck and unloading them at the destination. They have the knowledge and equipment to safely handle heavy or bulky items, minimizing the risk of damage.
Safe Transportation:
Movers have the expertise to transport your belongings safely from your old residence to the new one. They know how to load and secure items in the moving truck to minimize shifting and potential damage during transit. Their trucks are equipped with features to safeguard your items, such as straps, blankets, and padding.
Storage Solutions:
If you need temporary storage for your belongings, many residential movers offer storage facilities. They can securely store your items until you are ready for delivery to your new home.
These are some of the services that specialized movers typically offer. It's important to communicate your specific requirements with the moving company to ensure they can provide the necessary assistance for a successful move.
How to Hire the Right Residential Movers?
Licensing and Insurance:
It is essential to ensure that the mover you select has the proper license and insurance. A licensed and insured company will protect your belongings in case of any accidents or damages during the move. You can check with the Federal Motor Carrier Safety Administration (FMCSA) to ensure that the company is authorized to move your belongings.
Experience and Expertise:
Consider the experience and expertise of the moving company by asking the following questions:
How long have they been in business?
Do they specialize in residential moves?
An experienced mover will have the necessary knowledge and skills to handle various types of moves and address any challenges that may arise.
Services Offered:
Assess the range of services offered by the moving company, ensuring that they provide packing and unpacking services, as well as assistance with furniture disassembly and reassembly. Make sure the mover can accommodate your specific needs and preferences.
Transparent Pricing:
Request detailed cost estimates from multiple movers. The estimates should be based on an in-person or virtual survey of your belongings. Be wary of overly low or vague estimates, as they may indicate hidden charges or subpar service. Choose a moving company that provides transparent and comprehensive pricing.
Availability and Flexibility:
Check the availability of the moving company during your desired moving dates. Some movers may have limited availability, especially during peak moving seasons. Additionally, inquire about their flexibility in case your moving plans change or unexpected circumstances arise.
In conclusion, by conducting thorough research, obtaining multiple quotes, and checking licensing, insurance, and customer reviews, you can find a reliable and reputable moving company. Remember to inquire about their experience, services offered, and insurance coverage. Once you've chosen a moving company, ensure all the details are documented in a written contract. Confirm the moving schedule with the company before the moving day to avoid any potential issues. With the help of specialized residential movers in Parker County, TX, you can have a smoother and more efficient moving experience.